Bells Caterpillar® and Cummins® Engines were originally established in 1980 and have strategically specialised in Caterpillar® and Cummins® engines and parts for the Australian and Global markets.
We are approved distributors and partners of Interstate McBee™ products in Australia and to the global market.
Year after year Bells have been recognised for outstanding sales performance awarded by Interstate McBee™ in Australia. Following our expansions into specialist Caterpillar® and Cummins® engines and parts along with our valued partnership with Interstate McBee™ , we are unrivalled for the distribution of quality engine parts and kits throughout Australia and the world.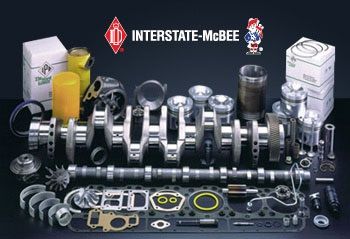 Interstate-McBee™ has the most comprehensive aftermarket product offering of replacement parts for Caterpillar® and Cummins® engine applications in Australia and the world. In addition to fuel injection components, both new and rebuilt, Interstate-McBee™ offers an extensive product offering of internal engine components including gaskets and gasket kits. All Interstate-McBee facilities are ISO 9001:2008 design certified. Their corporate headquarters and manufacturing facilities are located in Cleveland, Ohio with regional distribution centres in Doral, Florida, Houston, Texas and Santa Fe Springs, California. With over 20,000 items stocked and another 75,000 available, Interstate-McBee™ and Bells Caterpillar® and Cummins® Engines offer our customers in Australia, and beyond, the best service and support in the aftermarket.
As renowned Interstate McBee™Distributors in Australia we ship Caterpillar® and Cummins® engine parts and components throughout all of Australia including Perth and Western Australia, Melbourne and Victoria, Darwin and the Northern Territory, Sydney and New South Wales, Brisbane and Queensland, ACT, Tasmania, Adelaide and South Australia.
Contact our friendly team today for more information.