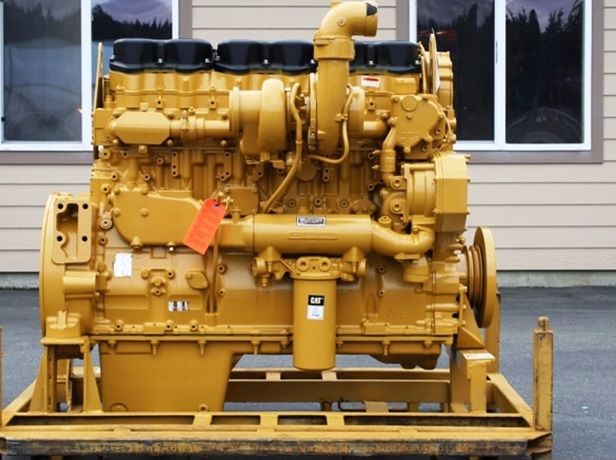 These Remanufactured Caterpillar® C15 truck engines are for sale in Australia and Worldwide. These C15 6NZ -9NZ truck engines have been completely stripped, acid bathed, machined, all parts inspected (to within OEM Caterpillar® specifications). All CAT® C15 parts used are either machined or replaced new. CAT® C15 injectors, C15 turbos and C15 fuel pumps are all re-manufactured items. All fully rebuilt to CAT® specifications and dynoed. All CAT® C15 truck engine parts are also available second hand (or serviced) for these engines - C15 engine blocks, C15 crankshafts, C15 cylinder heads etc. Caterpillar® C15 Engine kits are available for all CAT® engines.
SPECIFICATIONS
Engine Type: Truck

Serial#: 6NZ - 9NZ

Maximum Power: 540 BHP

Arrangement: 359-2103

Price: POA
We sell, rebuild, recondition and remanufacture Caterpillar® C15 Truck Engines and parts for customers anywhere including Australia, Africa, Asia, Canada, Europe, Russia, South America, United Kingdom, United States and Worldwide.

1) Front Seal
B4W-5359
2) Rear Seal
B232-7449
3) Crankshaft Kit
B232-7400 (5) B359-0715 (6)
4) Ring Gear
B7W-6247 115T B033-7687 126T
5) Crankshaft Gear
B216-8314

1) Top Gasket Set
B276-3420
2) Bottom Gasket Set
BC44TBOG (3)
3) Head Gasket
B240-7194
4) Valve Cover Gasket
B225-6451
5) Timing Cover Gsk
B225-8287 (4) B226-8766 (4)
6) Oil Pan Gasket
B225-6005 (4) B237-5932
1) Bush, Con Rod
B225-5438 x4
2) Bolt, Con Rod
B225-5439 x8 (1) B323-9312 x8 (2)
3) Connecting Rod
B225-5453 (1) B359-0722

1) Bushing, Cam
B232-7440 x1
2) Camshaft
B350-2433 (4) B380-2600 (4)
3) Tappet
B315-3384 x8
4) Pushrod
B278-5126 x8
5) Seal, Valve Exhaust
B254-3954 x4
6) Seal, Valve Intake
B252-6438 X4
7) Cam and Lifter Kit
B350-2433KIT (4) B380-2600KIT

1) Front Seal
B4W-5359
2) Rear Seal
B232-7449
3) Crankshaft Kit
B232-7400 (5) B359-0715 (6)
4) Ring Gear
B7W-6247 115T B033-7687 126T
5) Crankshaft Gear
B216-8314

1) Top Gasket Set
B276-3420
2) Bottom Gasket Set
BC44TBOG (3)
3) Head Gasket
B240-7194
4) Valve Cover Gasket
B225-6451
5) Timing Cover Gsk
B225-8287 (4) B226-8766 (4)
6) Oil Pan Gasket
B225-6005 (4) B237-5932
1) Bush, Con Rod
B225-5438 x4
2) Bolt, Con Rod
B225-5439 x8 (1) B323-9312 x8 (2)
3) Connecting Rod
B225-5453 (1) B359-0722

1) Bushing, Cam
B232-7440 x1
2) Camshaft
B350-2433 (4) B380-2600 (4)
3) Tappet
B315-3384 x8
4) Pushrod
B278-5126 x8
5) Seal, Valve Exhaust
B254-3954 x4
6) Seal, Valve Intake
B252-6438 X4
7) Cam and Lifter Kit
B350-2433KIT (4) B380-2600KIT